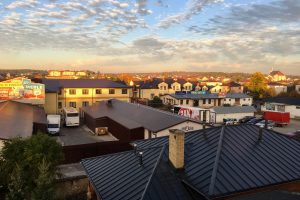 I woke up early after arriving late in my mother's hometown. I had driven from Krakow. I hadn't known that my windows were wide open and a bee was buzzing in the hotel room, hovering around the ceiling light. I looked outside at the pink sky and the city below me. The buildings were two stories high, mostly apartments. The city stretched for at least a mile and had none of the pulchritude of Krakow. It looked like a city without whimsy and vaguely well to do for Poland.
My father told few positive stories about his home town. His family was poor and his relationship with his father was fractious. The only warmth in his voice would come when he talked about playing soccer or going swimming with his friends. But my mother loved growing up in Tomaszow Lubelski. Her family was wealthy. She went to a good school. She had a beautiful white dog, a kid brother she adored and a goat that would follow her around town. She would talk about how how wonderful their Sabbath meals were, that she looked forward to them every week.
My mother once said to me, "Hitler didn't kill me, but he took my childhood away from me. I'll never forgive him for that." This was an uncharacteristic complaint from my mother, who was almost always stoic. Once when I was ten and we were in the kitchen baking together, I asked her, "How do you do it? Everybody got killed. How do you stay happy?" She looked at me like she always did when she thought I was acting like an American. Dismissive. "What do you mean, how do I do it? I wake up. I do things. Every day. There's no other choice."
If there was a place in Poland that had the remote potential to make me nostalgic for shtetl life, it was Tomaszow Lubelski. But there was little present to evoke warm feelings. Only a few historic buildings were left. Everything else looked boxy and from the 1970s and newer. I walked into one of the historic buildings, the county records office, and tried to find my mother's birth certificate.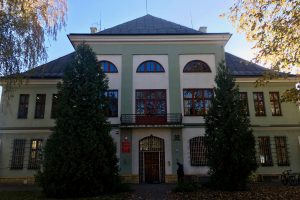 The county clerk was helpful and gracious. We went through computer records and handwritten birth notices from the late 1920s. Only a few people with my mother's maiden name had their births recorded and none were relatives I knew. My mother didn't know exactly when she was born. When she applied for American citizenship, she made up a birthdate. It wasn't surprising that there were no records of her birth, but I was disappointed.
In the center of my mother's town, a sign welcoming visitors had a list of all that was historical and worth visiting. I was surprised to see the Jewish cemetery on that list. Long abandoned, its headstones were, like in my father's town, used to pave streets during the war. In the 1990s Jewish war survivors from Israel collected funds and erected a monument to the memory of the town's Jewish community. The monument can be found on the cemetery's south side. The Israeli survivors also paid to have a secure fence placed around the cemetery's boundary and hired a man who lived next door to keep watch and be a gatekeeper.
As I waited for someone from the gatekeeper's family to arrive back home, a couple of middle-aged men walked by and gave me hostile looks. Were they anti-Semites or were they simply having a bad day? I had my suspicions. I had already been in Poland for a week and until then almost everyone had been welcoming. Many had gone out of their way to help me. People smiled. They were patient with my bad Polish. But I hadn't spent time in small cities until then and hadn't spent any time in eastern Poland. This was the heart of Polish ultra-nationalist, right-wing politics.
The daughter of the gatekeeper drove up and asked me who I was. I told her my mother had been born in this town. The young woman smiled and let me in. Young women in Poland were almost always solicitous to me, more than likely because of my wrinkles and thinning hair. The woman's long braids reminded me of pictures of my mother in her twenties. Just a few days before, a young woman like her offered to help me carry my backpack up a flight of stairs. "I'm old, but I'm not that old," I said. She laughed.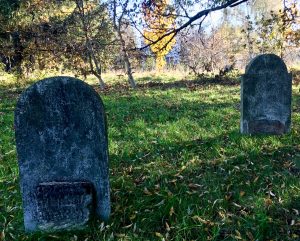 The cemetery was overgrown with vegetation. My feet got wet from the morning dew. Only a few tombstones remained. As I said a prayer, I began to sob. I wasn't listening to my father's voice inside me telling me to buck up. Instead I let it all out. It felt good, cathartic. This was where my ancestors were buried, after all. An infant sibling of my mother, never mentioned by her parents but whispered about when she was a kid, was probably buried here, too. Why wouldn't I cry?
When the Germans took Tomaszow Lubelski in 1939, my mother was living on a farm owned by a Christian friend of my grandfather. My grandfather wanted his family out of harm's way so he sent them off to the countryside. A German officer barged into the farm house when the Christian family wasn't there. My grandmother looked Roma, not Jewish. My mother, in braids and with high cheekbones, looked Slavic. Both spoke a perfect Polish. The translator for the German officer assumed my mother and grandmother weren't Jews. "The German wants a good Polish soup. Make some for him right now," the translator said.
Had the Germans stayed in Tomaszow Lubelski from that day on, all the Jews in town would have been systematically murdered like they were in my father's town. But when the Soviet Army invaded Poland a week later as part of the Soviet's agreement with Germany to divide Poland in two, the Soviets mistakenly took control of my mother's hometown. When the error was discovered, the Soviets were told to leave. The Soviet officer in charge took his time. He went to the Jewish community and made them an offer: stay and the Nazis will no doubt murder you; leave with us and you'll live.
Not everyone believed the Soviet officer's prediction of the future for Jews in Tomaszow Lubelski. My grandfather was one of the skeptics. But his younger brother was confident the Soviet officer was telling the truth. Surprisingly, my grandfather decided out of family loyalty that he and his family would leave with his younger brother. Two thousand Jews marched out with the Soviets. When they reached the border they were offered Soviet citizenship. My grandfather and great uncle, always capitalists, refused. They were sent to a gulag. The Jews who didn't leave with the Soviets and stayed in Tomaszow Lubelski were murdered in Belzec.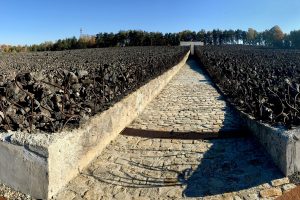 It's a short drive from my mother's hometown to Belzec Concentration Camp. The road parallels a railroad line, probably the same one that brought over 400,000 Jews to be gassed. The workings of the camp were destroyed by the Nazis when it was abandoned in 1943. In fall of 1942, when my relatives in Volodymyr-Volinsky and Tomaszow Lubleski were killed, the Germans were murdering fifteen thousand Jews a day in concentration camps and killing fields.
Hardly anyone visits Belzec. It's too far east. There are no major cities nearby. There are no structures left to enable people to imagine the horror of being in a camp. Instead the entire area is taken up with an austere, volcanic rock filled field sculpture. It's eerie and frightening, which is entirely appropriate. The grounds cover tens of acres.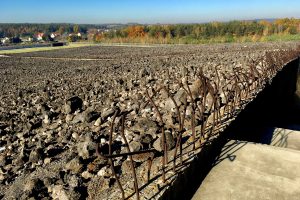 As I walked the pathways I saw no one else. My mother had three cousins who survived the war and lived in Queens when I was kid. I thought about them as I took in the details of the field sculpture. Their parents were murdered in Belzec. I began to sing the section in the Kaddish that talks of peace for all and for Israel. I sang it loudly over and over as I walked. It was a source of comfort.
I walked to my car outside of Belzec and paused to look at the railroad tracks two feet from the passenger door. The Jews came in cattle cars. There was no pretense of slave labor at this camp. The Jews walked in. They were all murdered. I got in my car and drove in bad traffic and exhaust filled air non-stop to Lodz, where I spent a day doing some research for a novel. I walked around the city and talked to librarians.