I had some time before my late night flight out of Warsaw and decided to visit the suburban town of Praga. It was there that my father had spent the fall and early winter of 1944 as a Polish-Soviet soldier. Beneath a highway and of no interest to any Pole is a statue of Soviet General Zhukov, who led the advance of the Soviet and Polish People's armies across the Vistula River and their victory over the Germans in Warsaw in January 1945. The victory was a conquest, not a liberation. After the war ended, the Soviets abused the Poles of Warsaw and the entire nation for over forty years.
Near the statue of Zhukov, I looked across the Vistula River. My father had likely camped within a few hundred meters of this same spot. He knew that war would soon end, that the Germans were finished. On cold nights his troop would keep warm by huddling together like bees in a hive. You got ten minutes in the center of the hive to get warm and take a little nap. Then you were kicked out and put on the edge before you were allowed to work your way back to the center.
My father never took off his boots from the time he and his army successfully attacked Warsaw in January 1945 until war's end. No one in his troop did. They marched and fought in their boots. They slept in their boots at night. In Germany at the end of the war, it was not possible for my father to remove his boots' leather – which had more or less bonded with his skin – from his feet in any conventional way. He and the other soldiers took razors to their boots and carefully cut the leather into strips. Then they slowly peeled the leather strips away.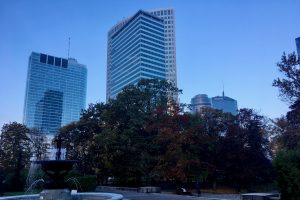 I filled up my rental car with gas on the way to the Warsaw airport. At the gas station, I asked for directions to the rental car return. The young woman at the cash register listened to me struggle with my Polish, then smiled and said, "Speak English." She gave directions with the help of a customer who was listening to us.
I had expected to spend my time in Poland around quiet introverts who opened up only when they had a few shots of vodka. Those were the kind of Poles I had grown up around in Milwaukee. Instead I had found a country where people went out of their way to be gracious and helpful time and time again.
Would they have been as warm to me had they known I was Jewish? Many would have been. Some might have turned hostile. The grandparents of the people I had met no doubt would have known my ethnicity after a glance at my face. But who in 2018 in Poland had that ability? Who in 2018 in Poland had ever met a Jew, much less an American one who spoke Polish poorly?
***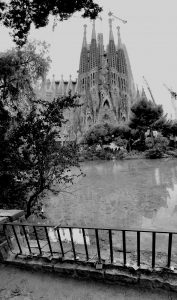 I spent a day in Barcelona before I went home to California. Nearly the entire population of Barcelona's medieval Jews was murdered in 1391. There's a small area left where it's known that Jews lived and one medieval synagogue remains. This is perhaps as prominent a physical remnant of a once vibrant Jewish culture as can be found in the entire country. Spain is a monoculture of Catholics, both those who believe and those who are non-practicing, and has been for hundreds of years. Poland has been the same way since the end of World War II.
In another four hundred years, the chances are good that Poland will, like Spain today, be absent of both a significant population of Jews and any significant signs of past Jewish culture. The buildings in pre-war Polish Jewish neighborhoods will be replaced. What few active synagogues remain will be repurposed or knocked down.
A few years ago I went to a contemporary art show in San Francisco that had a video installation. In the video, a young Polish man stood in a small, empty Polish soccer stadium and implored Jews to return to Poland. His voice was loud and echoed against the stadium seats and walls. He wanted children and grandchildren of Polish Jews like me to return, to make Poland a multicultural paradise again. I thought his words were a sick attempt at humor. My family was murdered in Poland once already. We weren't going back to be murdered again.
By chance, I met the young man from the art video the following year. I was astonished to hear him say that he meant every word in his soccer stadium speech. He hadn't been ironic or snarky in the video. Poland would benefit from having Jews return. He would welcome such a re-immigration with open arms. I thought he was delusional.
But as I talked to the man, I remembered something I'd forgotten about my brother. Before he died and when was gravely ill, my brother called and asked if I wanted to join him in an effort to claim Polish citizenship. He told me that by Polish law we were eligible. He was going to pay someone to put together the appropriate paperwork. Did I want to split the cost with him?
"Why are you doing this?" I asked.
"I'm going to move there. I'm paying almost six figures a year for my medical care. In Poland I'd pay next to nothing."
"That's crazy talk," I said. "Your Polish is non-existent. You won't be able to communicate with anyone. You'll be a stranger. You'll spend your last years alone."
"It's not so crazy," he said. "Why should I give my money to a greedy American medical system when I could leave it to my kids?"
I said no to joining my brother. He died soon after this phone call, well before the Polish lawyer he hired sent in my brother's application for citizenship. A month after my visit to Poland I surprised myself. I wrote a letter to the Polish consulate.
I told them my parents' life stories and why they were forced to leave Poland. I told them the paperwork I had as proof. I asked them whether it would be possible to apply for Polish citizenship and what my next step should be.
Poland will never return to the multicultural glory of the Polish-Lithuanian Commonwealth. It will be, for however long it remains an independent nation, a land of ethnic Polish Catholicism. Judaism at best will continue to show up as a tiny speck in its religious demographics. But if there are currently 8000 Jews who are Polish citizens I would like to change that number to 8001.