I've published two books so far: one novel, The Mathematician's Shiva, and one academic memoir, Gone for Good.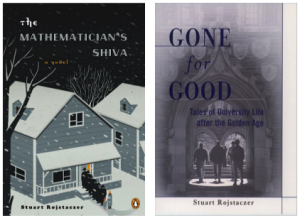 The Mathematician's Shiva
When the greatest female mathematician in history passes away, her son, Alexander "Sasha" Karnokovitch, just wants to mourn his mother in peace. But rumor has it the notoriously eccentric Polish émigré has solved one of the most difficult problems in all of mathematics, and has spitefully taken the solution to her grave. As a ragtag group of mathematicians from around the world descends upon Rachela's shiva, determined to find the proof or solve it for themselves–even if it means prying up the floorboards for notes or desperately scrutinizing the mutterings of her African Grey parrot–Sasha must come to terms with his mother's outsized influence on his life.
Gone for Good
Amid the clamorous debates on political correctness, the Western canon, and alcohol abuse on campus, many observers have failed to notice the most radical change in the American University: the Golden Age of massive government funding is gone. And, as Stuart Rojstaczer points out in this incisive look at higher education, the consequences are affecting virtually every aspect of university life. Laced with humorous and insightful anecdotes, Gone for Good is a highly personal tour of the university system as it has evolved from the glory days of phenomenal post-WWII growth to the financial stresses that now beset it.
Reviews, blurbs, etc. for the books can be found below.
The Mathematician's Shiva, A Novel
(Penguin, 2014)
National Jewish Book Award Winner for Outstanding Debut Fiction
American Booksellers Association and San Francisco Chronicle Bestseller
Friends of American Writers Literature Award Winner
American Library Association Sophie Brody Medal Finalist
Harold Ribalow Prize Finalist
Scientific American Favorite Physics Books of 2014
Wisconsin Library Association Outstanding Achievement Award
ABA Indie Next Summer Reading Group Pick, 2015
"You can never really complain about a book being too alive, too curious, too alert, too true to itself….The novel works for the same reason the humor does: It is smart, and brutally honest."
–New York Times Book Review
"High math, Eastern European history, and American culture converge in this hugely entertaining debut from geophysicist Rojstaczer….[A] multilayered story of family, genius, and loss."
–Publishers Weekly
"The Mathematician's Shiva is a delight….[Rojstaczer] delivers a smart, funny debut novel about family dynamics, the immigrant experience and the elegance of mathematics."
–San Jose Mercury News
"The Mathematician's Shiva is a complicated tale that weaves together scientific, social, familial, and emotional themes in a compelling, sensitive, humorous, and even affectionate manner. Despite its focus on a very specific and unusual group of people, the writing invites the reader to become at least an honorary member of the tribe."
–Notices of the American Mathematical Society
"Rojstaczer, a PhD geophysicist, has created a complex and chaotic rainbow of characters that makes his first novel both comedic and compelling."
–Library Journal
"[The Mathematician's Shiva] is funny indeed. You risk many a giggle if you venture to read this secretly during a boring meeting. However, it also tells about serious problems…."
–European Mathematical Society
"The generational setting is refreshingly different…. It's a fun read."
–Washington Jewish Week
"Rojstaczer…has written a poignant and at times funny novel that is a celebration of human endurance and the life of the mind."
–Durham Herald-Sun
"What happens when a renowned mathematician takes the solution to a vexing equation to her death? Hilarity, of course. Thoughtful hilarity. Stuart Rojstaczer takes on eccentric genius and anti-intellectualism."
–WGN Radio, Chicago
"[The] writing is witty with insightful commentary…. His characters are well-developed, and they remain very much alive in my mind, days after finishing the book." (4 & 1/2 Stars)
–Straits Times (Singapore)
"A wryly funny first novel."
–Wisconsin Gazette
"The Mathematician's Shiva is for everyone….Optimistic and funny."
–Boston Herald
"A wryly funny coming-of-middle-age story…[and] a fresh look at family, genius, and the Jewish Eastern European immigrant experience."
–Bellingham Herald
"An end-of-year list wouldn't be complete without a spot of fiction, and this wittily poignant novel is just the ticket. "
–Scientific American, "Favorite Physics Books of 2014"
"A family saga of human endurance, of adaptation, of exile, of love and loss….filled with humor, with wry observation, and with eccentric, quirky characters….Funny, poignant and thought-provoking."
–Chicago Jewish Star
"Effortlessly combining laughter and tears….This is one of those novels driven mainly by ideas – and it is chock full of them."
–Huffington Post
"The Mathematican's Shiva made me feel happy and maybe even a little smarter, and it certainly kept me warm, emotionally and intellectually."
–Abington Journal
"Poignant and hilarious….A gripping, ground-breaking, intelligent novel, sure to become a book club favorite…and to be recommended by librarians and booksellers for years to come."
–Wisconsin Jewish Chronicle
"An enjoyable debut…distinguished by a fluid, lyrical style."
–Kirkus Reviews
"There are rock stars; then there are math stars. Apparently, both have their groupies, and this debut novel may win Rojstaczer a few….[His] tale maintains a satisfying balance between humor and warmth."
–Booklist
"Like an alchemist working chemicals, Rojstaczer skilfully develops and mixes his characters, setting them in situations that produce the spectrum of human emotions."
–Mathematical Intelligencer
"The Mathematician's Shiva by Stuart Rojstaczer is both a funny and a poignant debut novel."
–Evanston RoundTable
"Rojstaczer's nuanced observations on both family and academic life… make for a memorable read."
–Jewish Daily Forward
"The elegance of Rojstaczer's novel is that the narrator unconsciously seems to approach his mother's death as the great mathematician herself might have looked at one of the most compelling math challenges of her lifetime."
–Cleaver Magazine
"As I read this book, the characters seemed so real and unique, that I kept thinking it had to be a memoir. In fact, I kept looking back at the cover to see if it really was just a novel."
–Williamsport Sun-Gazette
"[Rojstaczer] obviously knows a thing or two about the insular world of academia, as well as the challenges and heartbreaks of growing up in an immigrant Jewish family. The result is an engaging novel that resonates emotionally while providing a math lesson or two along the way."
–Greater Phoenix Jewish News
"A funny, warm book, written by a geophysicist with a loving, detailed eye towards the beauty of math and the incorrigibility of people."
–7×7.com, "3 Books On Our Must-Read List This Week"
"Highly recommended."
–San Diego Jewish Journal
"I love The Mathematician's Shiva. Who else will love it? Anyone who knows the manic world of the intellectually obsessed that Rojstaczer so perfectly captures, and anyone who loves dialogue that sparkles with wit, characters full of quirks and pathos, and a plot that twists between hilarity and heartbreak."
–Rebecca Newberger Goldstein, author of Plato at the Googleplex: Why Philosophy Won't Go Away
"Stuart Rojstaczer writes with enormous wit, style and empathy, and The Mathematician's Shiva is a big-hearted, rollickingly funny novel that's impossible to put down. A tremendous debut."
–Molly Antopol, author of The UnAmericans
"I loved this smart, funny, big-hearted novel. As hilarious and wise as early Philip Roth, The Mathematician's Shiva will delight and move you."
–Steven Strogatz, author of The Joy of x
"Here is the rare book that invites us into the romance of pure mathematics and the very human company of those who spend their decades unknotting the abstractions that describe our reality."
–Lore Segal, author of Half the Kingdom
"The Mathematician's Shiva is a brilliant and compelling family saga full of warmth, pathos, history, and humor, not to mention a cast of delightfully quirky characters, and a math lesson or two; all together, a winning equation! When Rojstaczer writes about mathematics, you'd think he was writing about poetry."
–Jonathan Evison, New York Times bestselling author of West of Here and The Revised Fundamentals of Caregiving
"This funny, moving, perceptive look at one man's relationship to his eccentric mother and the legacy of her genius succeeds to the nth degree. Rojstaczer is a wise, warm-hearted, and wonderful new writer."
–Eric Puchner, author of Model Home
"At last! The long hoped-for proof that a group of people even crazier than Yiddish-speakers can, in fact, exist."
–Michael Wex, author of Born To Kvetch
"Stuart Rojstaczer has written a mathematician's history of the family, full of challenging equations, emotional calculus and unexpected conclusions. The Mathematician's Shiva is intricate, intelligent and funny, a pleasure to read."
–Roxana Robinson, author of Sparta
Gone for Good: Tales of University Life After the Golden Age
(Oxford University Press, 1999)
"A serious, although informal, introduction to the realities of the university world today. Rojstaczer… is refreshingly balanced and calm. His chatty style never betrays anger or despair. He humanizes his subject where others have often parodied it."
–Kirkus Reviews
"Rojstaczer's is not a pretty picture, but Gone for Good is an important book that suggests that the halls of ivy are not as green and fresh as one might hope."
–Booklist
"Anyone interested in what it is like to be a faculty member at a major American university will enjoy this book…. Rojstaczer's observations are keen and his opinions on topics ranging from student-athletes to political correctness are entertaining, even if one disagrees with his viewpoints."
–Science
"Rojstaczer is the perfect guide to the changing face of the American university: a man who betrays no anxieties about his ability to adapt, and whose criticisms therefore avoid the hysteria of many of those coming out of the humanities."
–Durham Independent
"Rojstaczer, offers a candid inside view of academe today and argues that curbing growth could result in better undergraduate education."
–Stanford Magazine
"Donald Kennedy and Henry Rosovsky have recently given us views of the modern university as seen from the top down. Rojstaczer tells us what it looks like from the inside out. His description is usually entertaining, occasionally depressing, and always deadly accurate. If you care at all about academic life in America, you'll have trouble putting this book down."
–David Goodstein, author of On Fact and Fraud: Cautionary Tales from the Front Lines of Science, and Vice Provost, Caltech
"All parents of prospective applicants to selective universities would benefit from reading this book; for that matter so would the applicants and the faculty who may teach them. Stuart writes quite well, especially compared against most academicians today. You will enjoy the book, and you might even learn a thing a thing or two."
–Malcolm Gillis, President of Rice University