I took a bus from Warsaw to my father's Polish town, which is now in Ukraine. It was a step back in time of at least twenty years. Poland has a viable economy. Ukraine doesn't. My father's town, now called Volodymyr-Volynsky, is a modest-sized city that has been a regional trading center for eight hundred years. Now its principal source of revenue comes from smuggling booze, cigarettes and who knows what else across the Polish-Ukrainian border twenty kilometers to the west. The road along those twenty kilometers is full of potholes, rills and gullies.
Unlike Warsaw, Volodymyr-Volynksy wasn't destroyed by the war. Churches, even one from the twelfth century, are intact. I could walk the same streets as my father and see many of the landmarks of his childhood. I visited his "red-brick school," which coincidently my wife's step-grandfather also attended. I knew that my father had lived on the edge of town in a straw-roofed shack. Those kinds of homes were gone, but photos of them taken by the Austro-Hungarian government before World War I can be found in online archives.
The town's main synagogue survived World War II as well, but was demolished by the Soviets. There were no Jews in town left to stop them. Before the war, there were over twenty thousand Jews in Volodymyr-Volynsky. After the war there were less than 90 survivors and all but a few soon left. Today, there are probably less than five Jews in the entire city and all come from elsewhere. There are also less than a few hundred ethnic Poles in a city where Polish and Jewish life dominated.
In the region that contains my father's hometown, Volhynia, there were 330,000 Poles and 200,000 Jews in the 1930s. By the end of the war, less than 3000 Jews and Poles remained. In Volhynia, Nazis enlisted Ukrainian fascists to murder Jews and then the Ukrainians, with German help, murdered Poles.
When Polish people have occasionally told me that the Soviets during and after WWII treated Poland worse than the Nazis did during WWII, I've never engaged them in debate. The assertion is loaded with anti-Semitism and too ludicrous to merit discussion. The Germans murdered over five and a half million Polish citizens. But I have always wished to remind these Nazi apologists that the massacre of ethnic Poles in Volhynia, 40,000 to 60,000 murdered during the war, showed the likely future for all of Poland had Germany won.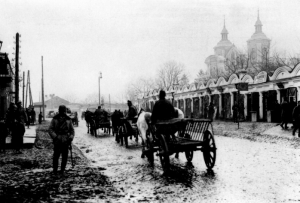 I walked around the boundary of the old Volodymr-Volynsky ghetto. This was where my grandparents, aunts, uncles and cousins spent their final days. I then walked along a street featured in a 1916 photo of a business district. I own a copy of that photo and one of the signs visible in the image is for a hat and umbrella shop owned by P. Rojstaczer. My grandfather's name was Pinchas.
I took a modern recreation of the 1916 photo. I talked to the owner of a little shop next to the one once owned by Pinchas Rojstaczer. The streets and sidewalks were no longer made of dirt. The horse and wagon buggies had been replaced by cars, trucks and bicycles. But the church in the background was the same. My father, no doubt, had walked this same street many times.
My father told me in that in 1946 he came home to see if anyone in his family had survived. He was a soldier in the Soviet Army at the time, stationed in the Soviet zone of Berlin.
He walked around town that day just like I was doing in 2018. The people he knew weren't happy to see him. That night he went to sleep in his family home one last time. Around midnight he heard noises outside. "Let's get the one Hitler left behind," one of them said.
My father saw flames and smoke above him and knew the gang outside had lofted torches onto the roof. They were trying to burn him alive in his family home. My father was a soldier with a gun. He shot his way past the blocked front door of his house and shot everyone he saw around him. Then he ran out of town.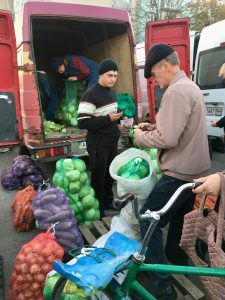 I walked around the town's central plaza where a fall market was taking place. People were buying their winter cabbages, carrots, and onions in 10 and 20 kilo bags. I bought a pair of pretty wool socks for my wife. How many people there would know of that night when my father shot his way out of town seventy two years ago? It was probably long forgotten.
The pre-war cemetery near the center of town where my father's ancestors are buried is now a park that leads to a school. All the tombstones are missing save for one stub. The thousands of tombstones that filled this park were broken off by Nazis and Ukrainians and used to pave streets during the war. I probably walked over those tombstones, now covered over in asphalt or concrete, that day.
One of the few Jews who currently lives in my father's hometown was a gracious host who knew the Jewish history of the city well. I walked with him and a translator in the graveyard, now filled with deciduous trees. People on their way to the school and who knows where else walked past us. I'd noticed in my walks with my host that many people knew him and greeted him warmly.
"You're a popular fellow," I said to him.
He was a musician born in another small western Ukrainian city. He'd moved to Volodymyr-Volynsky because his wife was offered a good job in town. He smiled. "I have a lot of friends. I've performed at a lot of weddings."
"They know you're Jewish, don't they?" I asked.
"Oh yes, they know."
I was surprised that a Jew in this town would be treated warmly. My sense that Eastern Europe was still fully saturated with anti-Semitism was in error. There was at least one pleasant exception. There were no doubt many others. The man loved Ukraine and the people of Ukraine loved him back.
We took a taxi, an old Lada, to the killing field where my grandparents, uncles, aunts and cousins are buried. A fifty-foot high concrete monument was erected in 1989 to honor the eighteen thousand Jews murdered here. I'd seen pictures of the monument before and felt fortunate that this place had been identified. I knew where my relatives were buried.
Other Jewish WWII survivors and their children aren't so fortunate.There are thousands of unmarked killing fields throughout Ukraine.
A border-like red and white bar, sixteen-feet long, protected vandals from entering the memorial and the surrounding killing field. Still, there have been recent anti-Semitic graffiti sprayings nearby and in the not so distant past, grave robbers have dug into the killing field's remains in search of gold and jewels.
As we walked around the site, the taxi driver did his own search. He was looking for mushrooms for his wife's borscht. He would reach down, pick a mushroom, carefully examine it, and if it didn't match his criteria, drop it.
I'd never seen a killing field and hadn't known what to expect. But it was instantly identifiable. The first burial mound we saw was the biggest, a meter high rectangle about a third of the size of a soccer pitch. As I approached I started to cry, but then I heard my father's voice in my head again. Be a man. Make yourself strong.
I'd only seen my father cry twice. Once during a thunderstorm in the middle of the night, he came into my room when my mom was out of town. He asked to come into my bed as the thunder rolled in the house. He held me and cried. Then when the thunder ended he got up and said, "Thanks. I'm OK now."
When my mom came home I told her about this incident. "It's the war. The thunder reminds him of it," she said. I realized then that my mom had held my father during many a thunderstorm. The other time I'd seen him cry was when a distant relative gave him a picture of his sister taken in 1935 that had been mailed to America. Would my father have cried seeing this burial mound? There is no doubt.
There were three burial mounds. I said a prayer at each one. The Jews of my father's town had dug their own graves. Every day for over two weeks, they were marched out from the ghetto. Then they walked seven kilometers to this site and were given shovels. They were told that they were digging pits for airplane fuel tanks for a new airfield.
At the edge of the biggest killing field I noticed a birch tree perhaps thirty years old. The tree had grown at such a pronounced angle away from the burial mound that the trunk's base was two feet closer to the killing field than the trunk at eye level. It was as if, while young and growing, the birch tree had been trying to get as far away from this evil as it could.
I wanted to get away, too. That afternoon, I took a bus filled with Ukrainians going back to their jobs in Poland. The bus driver got into an argument with the Ukrainian border guards that seemed to be about the inadequacy of his bribe. We sat in the bus for four hours and then were pulled off for a bag inspection. I was the only non-Ukrainian. "I don't speak Ukrainian, only Polish," I said to the border guard. "Is your family Ukrainian?" he asked as he looked at my passport. "Yes. My father was born here," I said. He gave me a wave of approval without even looking at my backpack.
A short video (by VM) of me at the killing field can be found here.